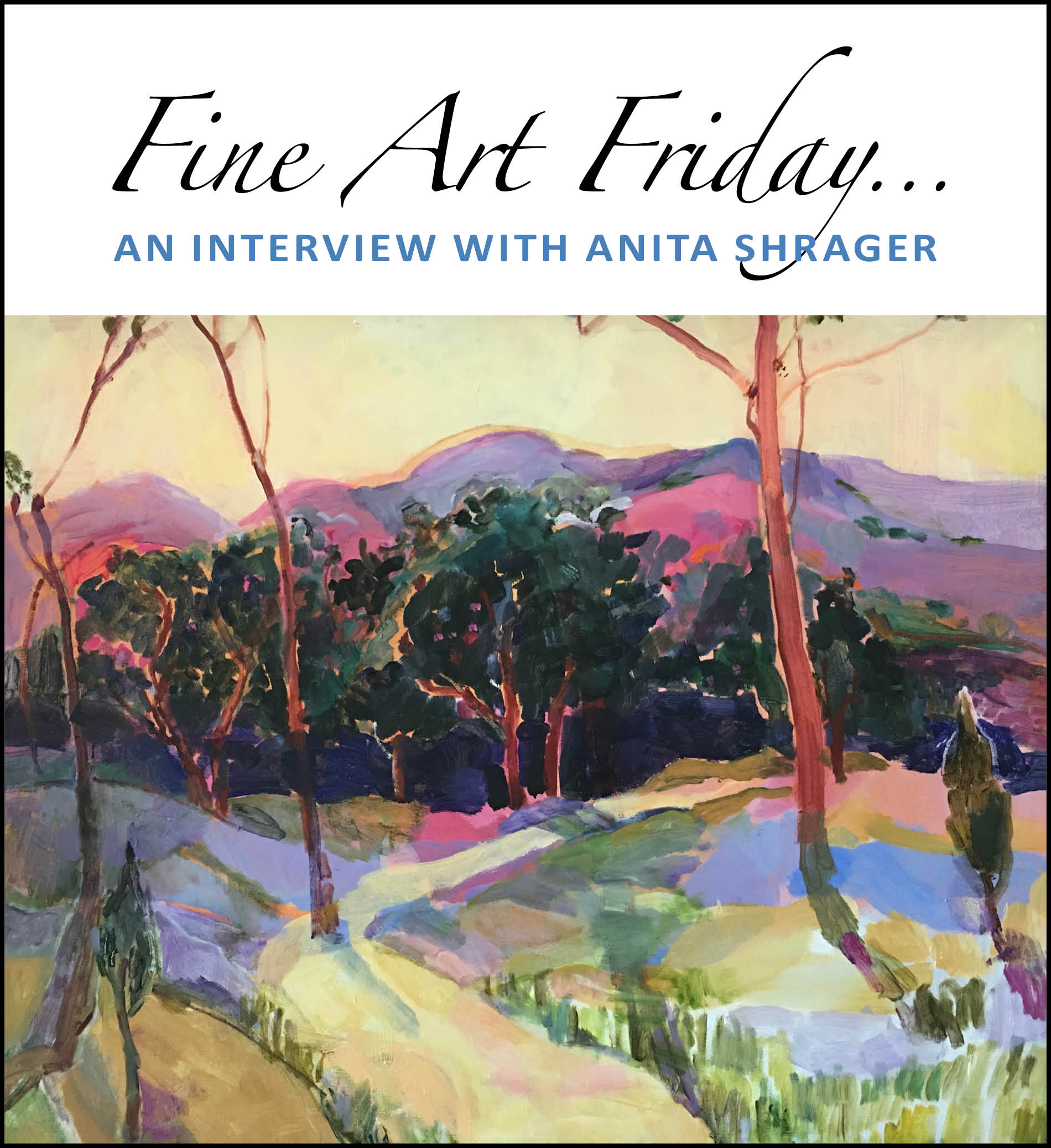 We don't think that anyone in this county paints quite like Anita. An artist ever since she was a girl in Philadelphia, her body of work is tremendous and recognizable. She's able to suggest with just a few strokes trees, water, reflections and shadows. This summer, Anita was featured in Bucks County Magazine. Michele Malenchak wrote:
"Influenced by the New Hope School of Impressionism, she paints outdoors, especially during that time just before dusk when the atmosphere is infused with pink light." Enjoy!
1. What are you currently working on?
I recently finished this painting of the marina at Neshaminy Creek. One of my favorite places to paint is near the water! The weather has made this mostly a study from memory and I have had fun pushing the colors. I have some beautiful beach photographs and in early September I will work in plein air at Sandy Hook in Monmouth County, New Jersey. Indoor and outdoor painting are complimentary experiences and I need to feel the windswept coast to breathe life into a seascape!
Last Light in Pink (above) is 20 x 24 inches, oil on canvas
Neshaminy Marina (below) is 12 x 12 inches, oil on canvas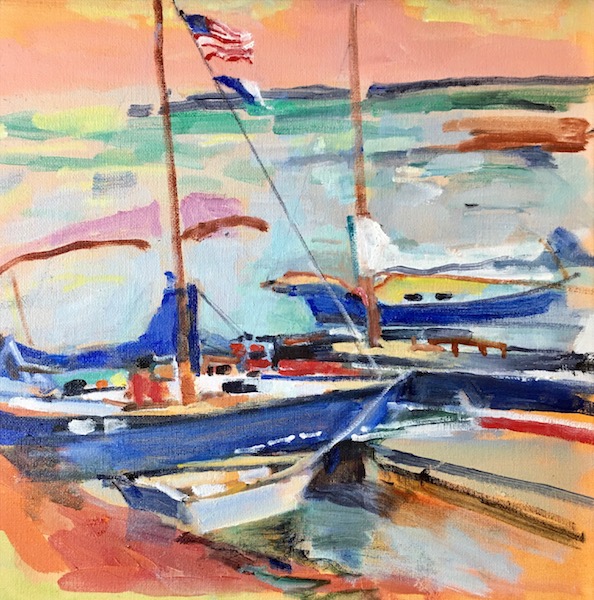 2. Which piece of your work are you most proud of?
It is difficult to single out one picture! I consider myself foremost a colorist, trying all the while to paint with passion, purpose and pleasure. The Pennsylvania Impressionist School is one of my favorite inspirations! Each truthful color note in plein air truly can transform your studio work to a higher level. This painting of Phillips Mill is one of my most successful paintings in this genre, garnering me the Takoya Noda award from the National Arts Club in N.Y.C. and the Phillips Mill award for "A painting in the New Hope tradition."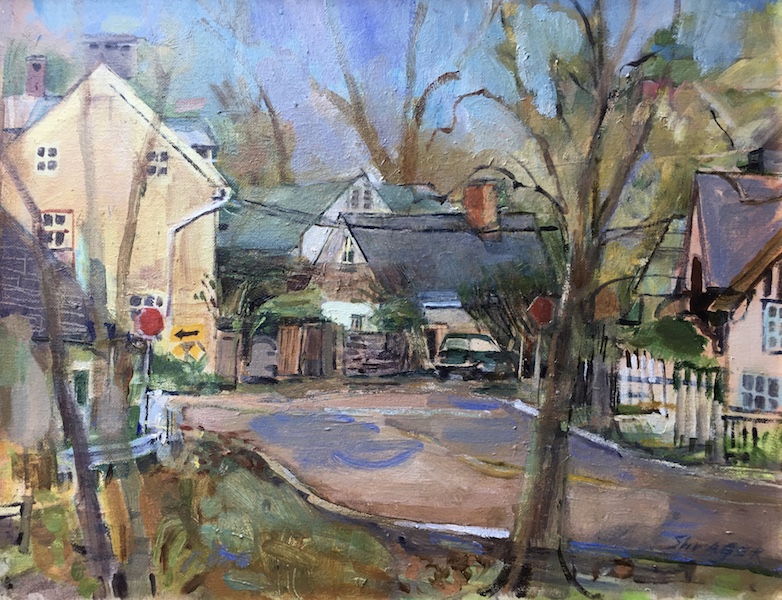 3. If you could magically have, all to yourself, any piece of art that you've ever seen in person, what would it be? (Something that moved you, gave you goosebumps.)
It would have to be A Bar at the Folies-Bergère by Édouard Manet.* I have been haunted all my life by the beauty of this painting I saw as a young woman in Paris! You can almost look through the eyes of the melancholy and absent gaze of the serving girl. In the foreground is one of Manet's most dazzling still life's. Her blue-black velvet dress stands out against the gilded framed mirror . . .  reflecting the café concert hall under the great chandeliers. This work portrays a simple grandeur that is unmatched.
* (now in the Courtauld Gallery, London)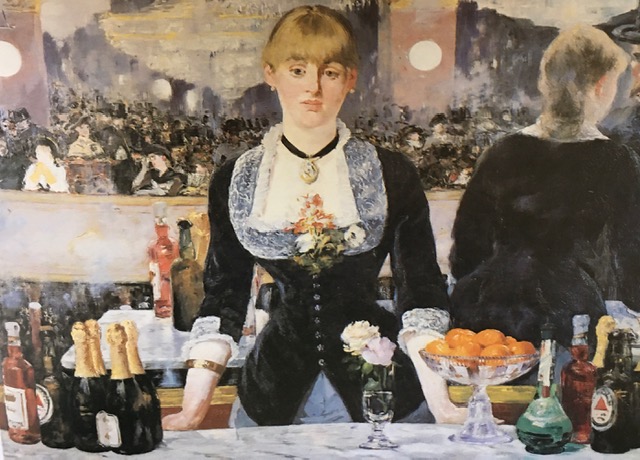 4. What has been the hardest part of being at home during Covid-19?
The hardest part of being at home during the COVID-19 was the isolation. I have a pre-existing condition of asthma so it made it even more difficult to go out even to shop. I brought in a few of my flowers and did some sketches to keep my mind occupied. It was hard to watch malaise and sadness.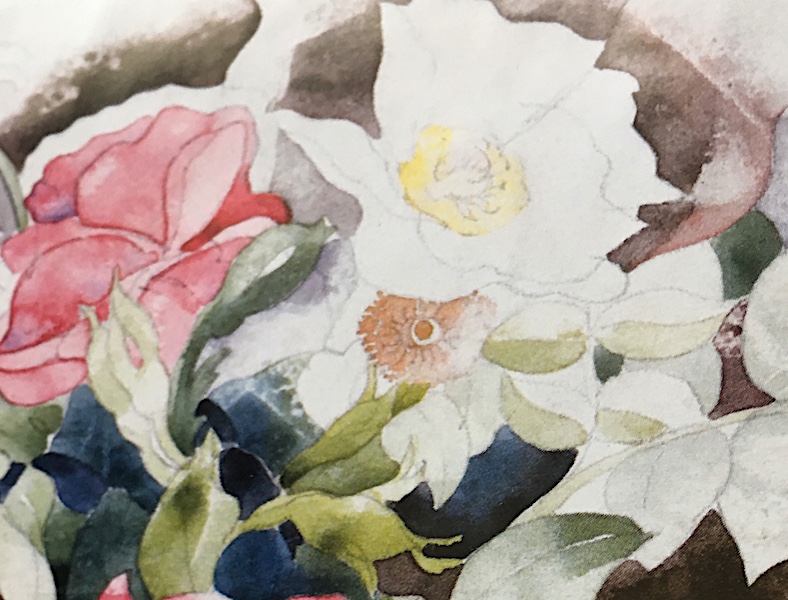 5. What has been the silver lining?
Having more time to play with my Pomeranian Bailey! Having a few good friends come over to visit. Turning off the news!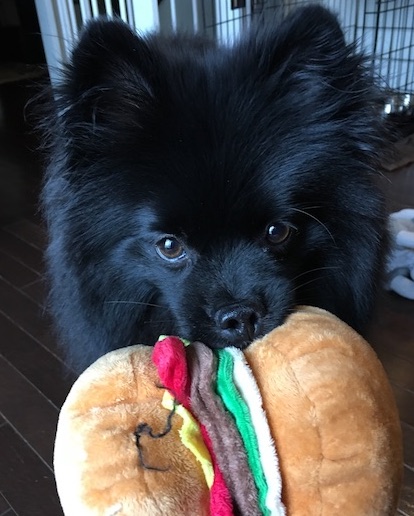 Jim Rodgers Exhibition opens August 2nd!
You are invited to visit the gallery during the month of September and enjoy a wonderful array of new work by Jim Rodgers. You may make an appointment for a private viewing, view the collection on our website or call ahead to stop in if you're in the area. We're all wearing masks and social distancing to do our part in keeping everyone safe.
Jim will be on hand to meet and greet visitors
on two different weekends:
Saturday, September 12th, from one to five pm
Sunday, September 20th, from noon to four pm
_____
Stop by when you're in the area, or call to set up an appointment for a private visit.
Your safety is our top priority and surfaces will be sanitized between visitors.
Contact us if there's something of interest, we'll be happy to hold it for you until you can see it in person.
215-794-4300 | rhonda@silvermangallery.com
PHYSICAL ADDRESS:
4920 York Road, Route 202
Holicong, PA 18928
Five miles south of New Hope and just north of PA 413
in the Buckingham Green Shopping Center
(shows Doylestown on maps)

MAILING ADDRESS:
PO Box 1
Holicong, PA 18928
GALLERY HOURS:
Wednesday through Saturday 11am - 6pm
Sunday 11am - 4pm
Additional hours, shipping, delivery and
in-home consultation are available by appointment.

info@silvermangallery.com
(215) 794-4300