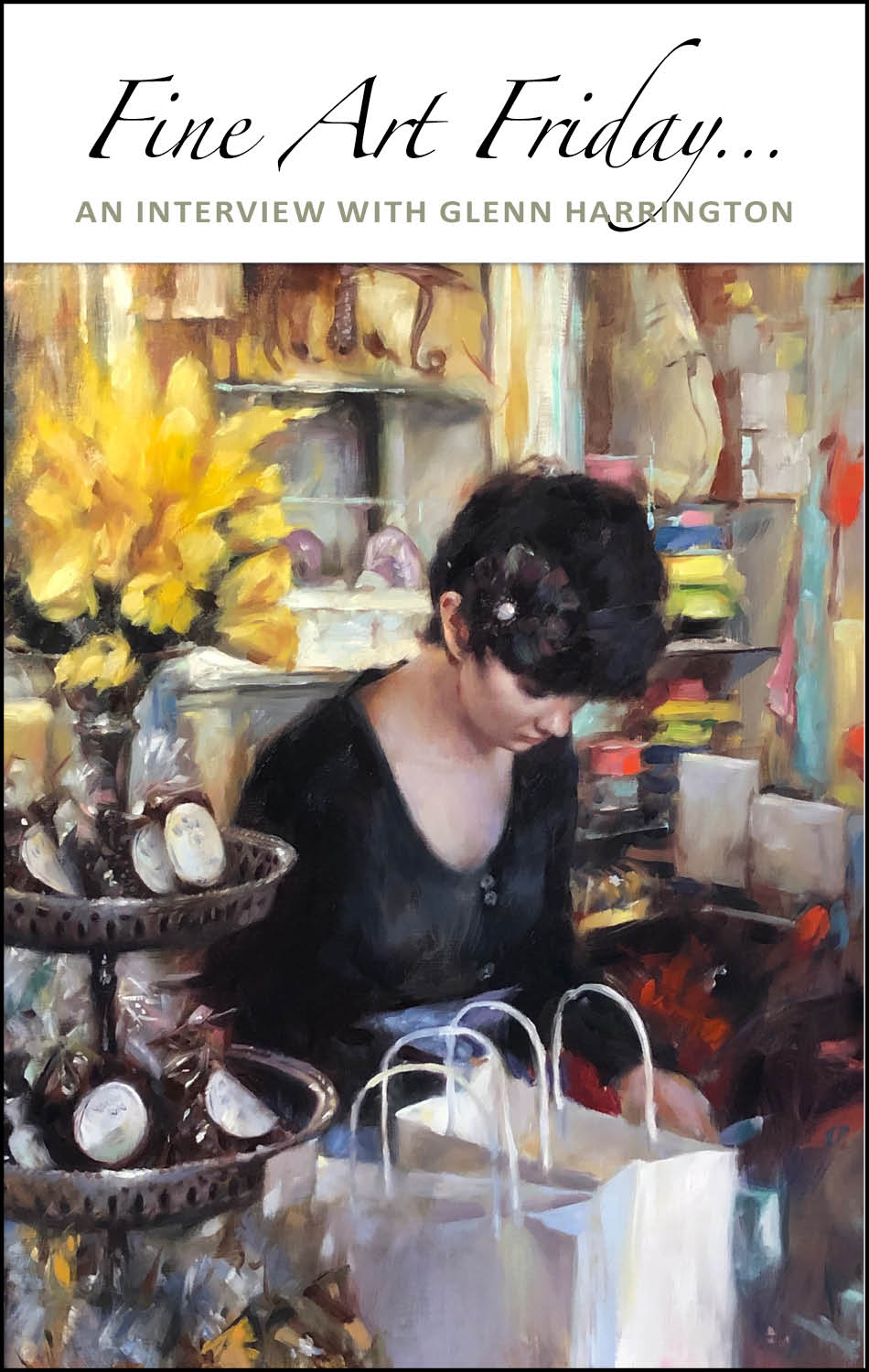 Glenn was the first addition to the gallery's roster when I took the reins in 2016. It has been a pleasure to exhibit his work and get to know his amazing family.
– Rhonda Garland, Silverman Gallery
1. What are you currently working on?
I'm putting together a series of paintings for an October show that highlight places of interest and the people that breathe life into them in our community. Figures in outdoor settings: gardens, streams, rowers…local stores, a singer, and some people of note that have had highly visible careers and settled into our area.
I'm also working on a portrait commission for a man in his 80's who wants to paint his dream; the joyous life he's had with his two beautiful horses. He's been out west on mountain rides and has dined with presidents. Retelling his story from the multitude of photographs will be challenging to piece together, but the unique images, coupled with the joy I hear in his words about his life, has inspired me to create a painting that will capture the essence of that dream.
Above: The Chocolate Box, Lambertville, NJ, 26 x 20 in., oil on linen
Below:  The Canal House Station, Milford NJ, 18 x 24 in., oil on linen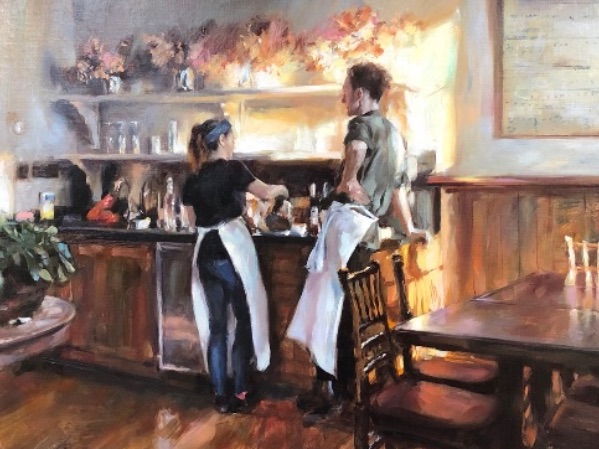 2. Which piece of your work are you most proud of?
I should say that any painting of our children would qualify, and they do, but my sons would be mad at me for picking the other, so I'll say "River Sycamores". After illustrating hundreds of books, I decided to paint my story, and having come across three intertwined trees along the river late in the afternoon, I started there. The painting was purchased by a Princeton Investment firm and hung in their foyer. I published the image, Disney saw it and commissioned me to create 40 oils for their Tarzan children's book. Then BBC books on tape saw the painting and commissioned a close reproduction of it for D. H. Lawrence's "Women in Love". A local scene I had walked by often became a landscape celebrity!
Below: BBC Radio Presents (cover) . . .
Braided Sycamores, 36 x 24 inches, oil on linen, is a smaller version of River Sycamores, available through the gallery (shown in custom Madary frame).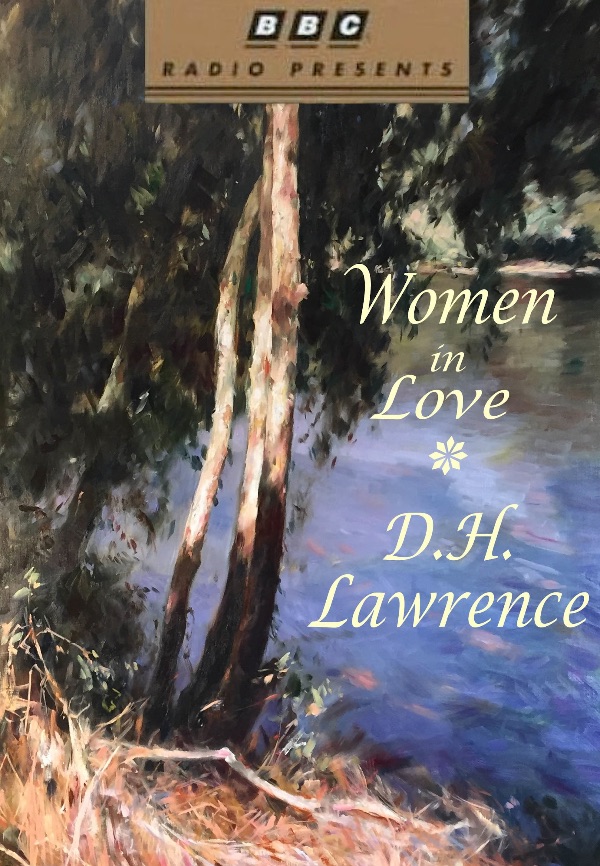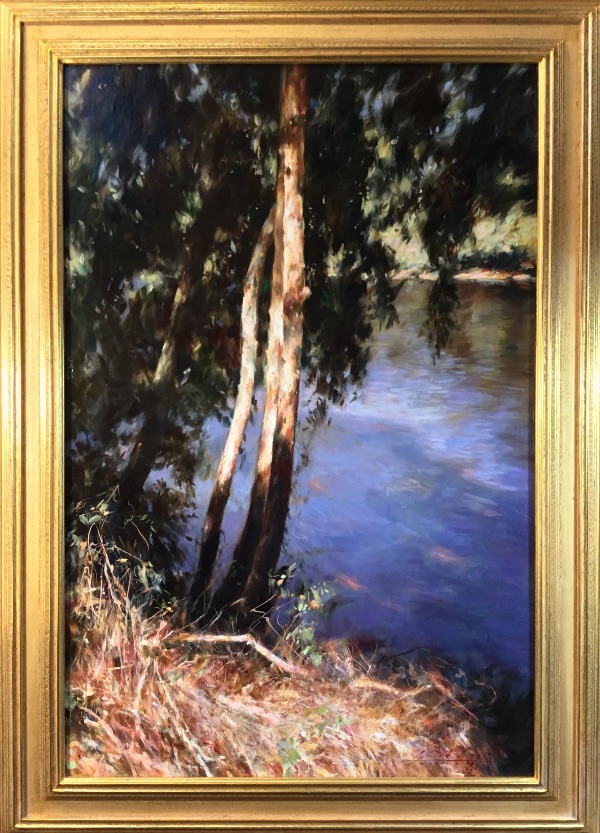 3. If you could magically have, all to yourself, any piece of art that you've ever seen in person, what would it be? (Something that moved you, gave you goosebumps.)
I'd take any Picasso, sell it, and then buy any Sargent, Lepage, Sorolla, Waterhouse, or Valezquez. This was always my dad's favorite painting and probably mine . . .

Joan of Arc, 1879 by Jules Bastien-Lepage (French, 1848-1884), Metropolitan Museum of Art, NYC.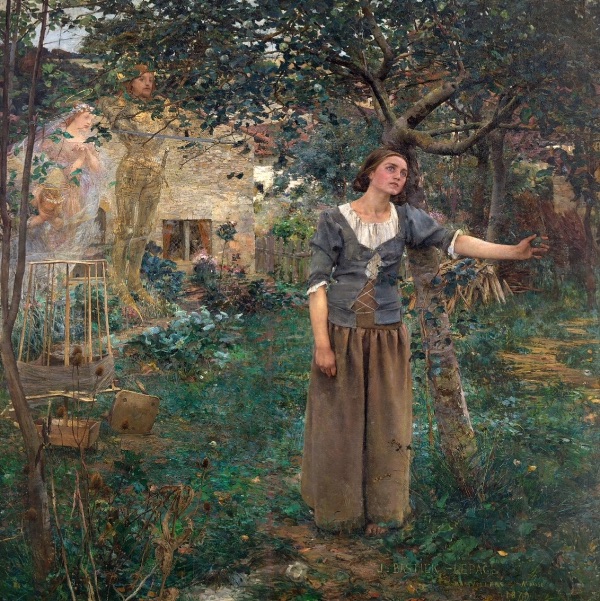 4. What has been the hardest part of being at home during Covid-19?
I've been painting at home my whole life, so no change there. Artists have long worked from home, before it was forced, or chic, or common. I read recently that being an artist was the profession least likely to contract the bug. I'm married to a woman that teaches in New Jersey, unfortunately that put me back on top . . . now she teaches on Zoom, so back on the list's bottom.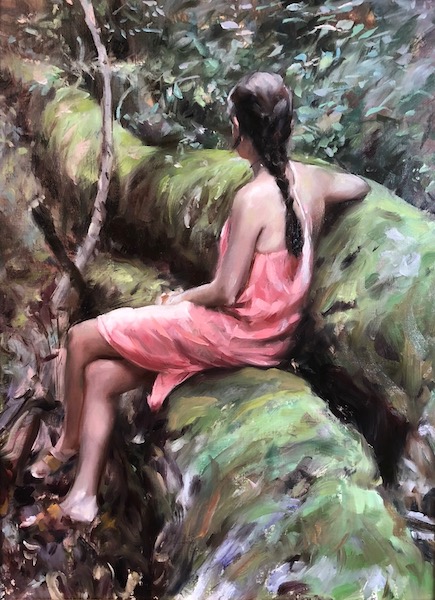 5. What has been the silver lining?
I've not experienced a silver lining, but a gold lining. I just finished a double portrait and for the first time was paid in American Eagle gold bullion coins that the client had acquired to hedge against the unstable financial markets. I was tempted to test the doubloons by pirate biting, but restrained out of fear of contracting the virus . . .
If there's been a silver lining for others, it's been that people have been blessed with more time to spend with family, freeing themselves from the commuters track to discover the world outside the office window. The problem with this of course, is that all of those redeployed workers are transforming themselves into self-made instant artists, unleashing a newfound creative freedom by launching stunning iPhone photos, decent primitive oils and fine first-time watercolors. Suddenly, they have time to photograph and paint the beauty that we "artists" discovered long ago. Jokingly, I tell them all to "get back to work and leave the art up to us professionals". I remind them that real art, like real heart surgery, flying planes, and criminal law, takes years of schooling, observation, and experience, and that it's time to get back to your real jobs. But admittedly, to be alive is to possess the sensibilities of an "artist" and its selfish for anyone to deny or delay their latent talents from blossoming. It's only in the unique interpretation and successful execution of the experience that rewards one the title "artist", and that position is always open. Sales do not an artist make!
A special silver lining for you to view is the video on our website of Glenn's progress while working on the painting shown above: Paola at Bowman's Hill, 18 x 14 , oil on linen. Just click on the painting!
Stop by when you're in the area, or call or e-mail to set up an appointment for a private visit.
Your safety is our top priority and surfaces will be sanitized between visitors.
Visit our exhibition by Lahaska's Joseph Barrett and Bucks County Folk Artist, H. "Mitch" Michener. Work by all of our gallery's fine artists is featured in the front gallery, many more paintings and mosaics are available to view on the website.
NOTE: The Jim Rodgers Solo Exhibition will open this September.
Please call or e-mail us if there's something of interest
and we'll be happy to hold it for you until you can see it in person.
215-794-4300 | rhonda@silvermangallery.com
PHYSICAL ADDRESS:
4920 York Road, Route 202
Holicong, PA 18928
Five miles south of New Hope and just north of PA 413
in the Buckingham Green Shopping Center
(shows Doylestown on maps)

MAILING ADDRESS:
PO Box 1
Holicong, PA 18928
GALLERY HOURS:
Wednesday through Saturday 11am - 6pm
Sunday 11am - 4pm
Additional hours, shipping, delivery and
in-home consultation are available by appointment.

info@silvermangallery.com
(215) 794-4300