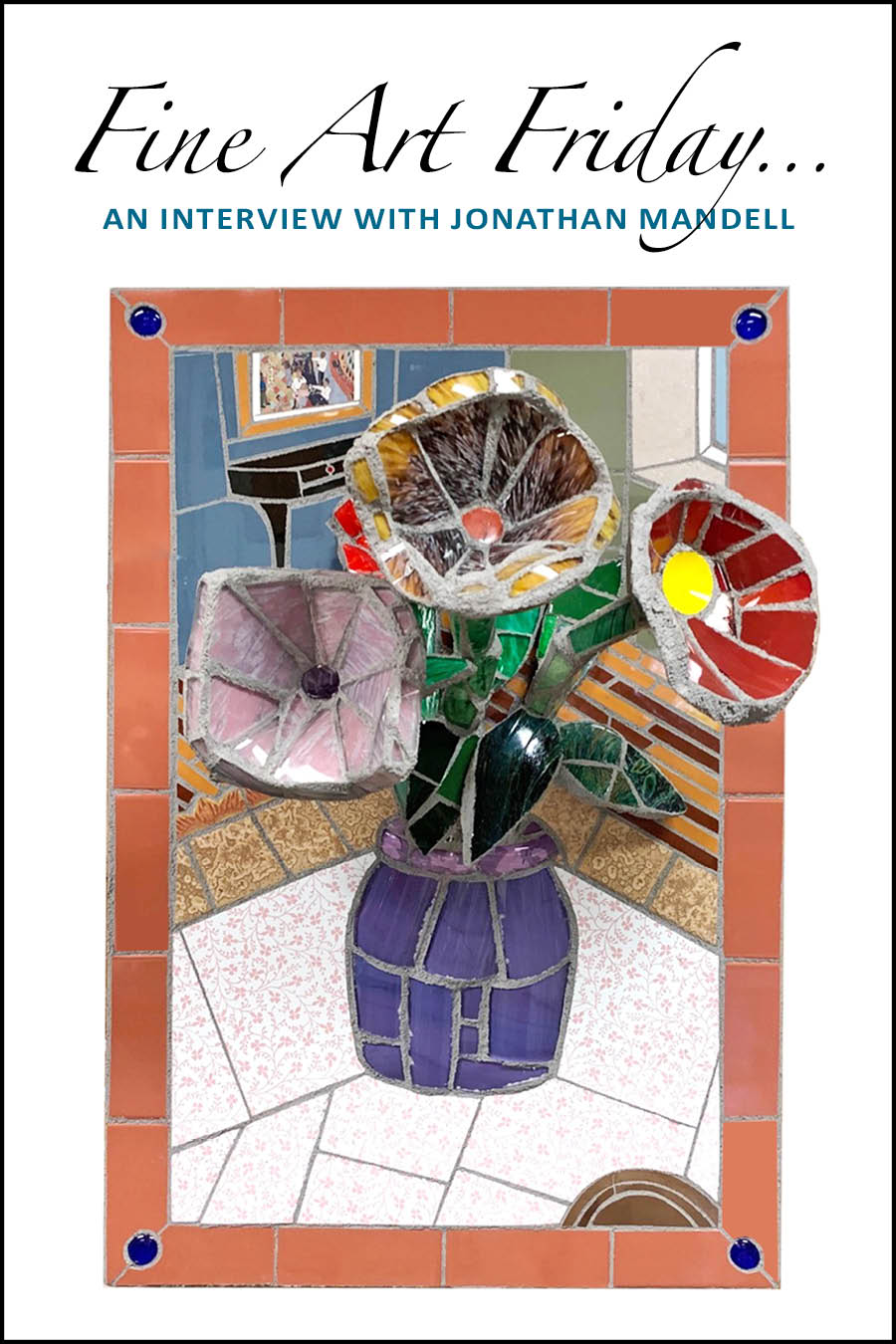 Today we continue our Fine Art Friday Gallery Artist Interview Series.
This week we're featuring the work of our fabulous mosaic artist,
JONATHAN MANDELL:
1. What are you currently working on?
Currently, I am working on expanding applications of bas-relief ideas into my two dimensional compositions. I just completed a piece titled: 3D Floral Mosaic (shown above, 37" x 24.5" x 14.5"). It was made using hand blown glass shards, ceramic tile and lapidary. The three main flowers fit into the mosaic surface with tubes that receive pipes. The dish in the lower right is copper. The center of the flowers are, from left to right, amethyst, red jasper and glass.
In 3D Floral Mosaic, I referenced a previous work of mine, Bar Scene (shown below, 48" x 24" x 2"). I had Bar Scene fired on to a ceramic tile which I then cut a detail from and fit into place as framed wall art in my composition. The focus of my exploration in Bar Scene was in tinkering with perspective with respect to the figures and the bar, but then making the floor into a flat atmospheric element, enhancing the essence of the scene, like a Saturday Night Fever, pulsating quality.
My most recent piece of work is Elton John (also shown below, 32 x 32 x 2″) was made using ceramic tile, glass, abalone for his glasses and the piano, with pyrite for his rings.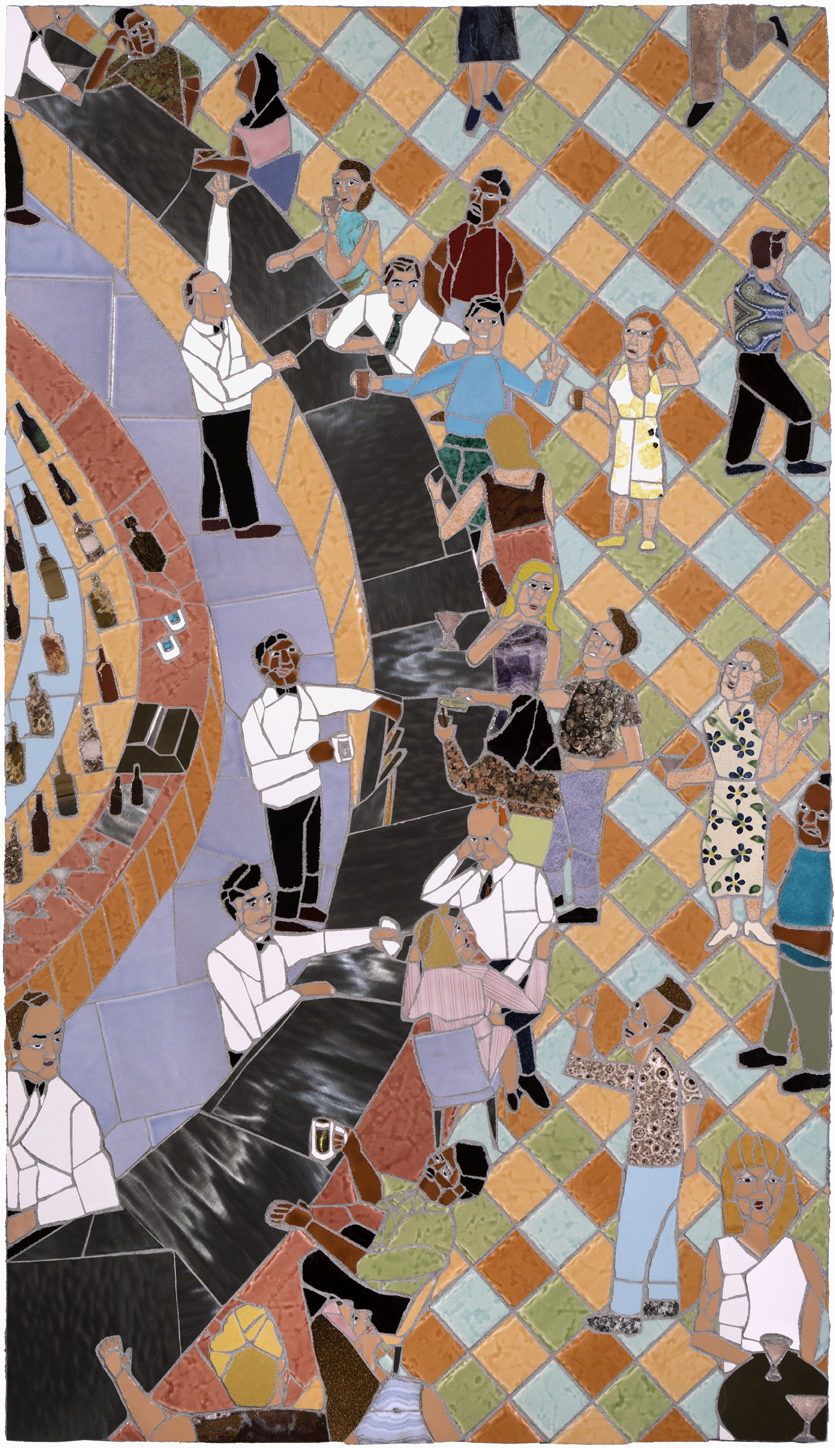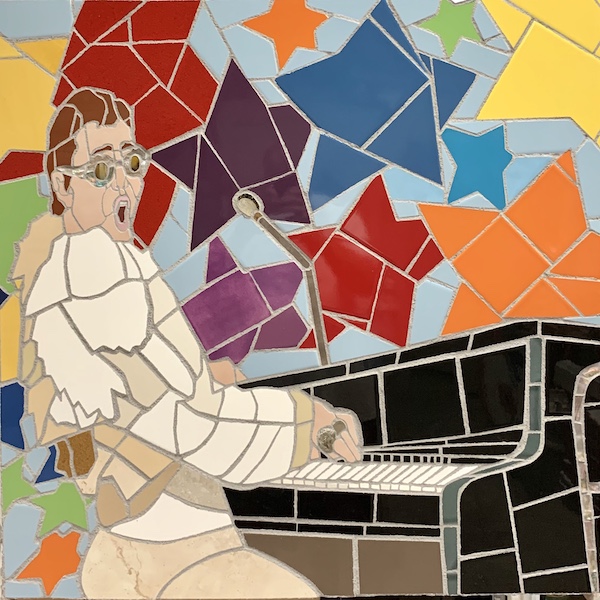 2. Which piece of your work are you most proud of?
Citizens Bank Park (96" x 72" x 2")
It is in the main concourse of Citizens Bank Park by Section 125, behind home plate. This mosaic is an exploration in to perspective as well as a narrative of the experience of a Phillies game, complete with the Phanatic, cotton candy, hot dogs, and of course the ball in play..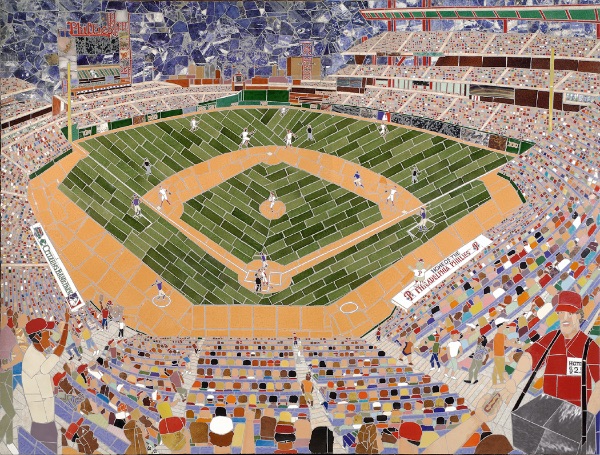 3. If you could magically have, all to yourself, any piece of art that you've ever seen in person, what would it be? (Something that moved you, gave you goosebumps.)
Any landscape painting by Neil Welliver (1929-2005). I earned my MFA at the Graduate School of Fine Arts at the University of Pennsylvania in 1990. Mr. Welliver headed the program at that time. He would take a backpack into the wilderness of Maine and paint scenes capturing light at different times of day, seasons and weather conditions. He brilliantly reduced his palette to a minimum of colors and breathlessly expressed the feeling of air and space..
Shown below: The Birches by Neil Welliver (1977, 60 x 60 inches) is at the Metropolitan Museum of Art, NYC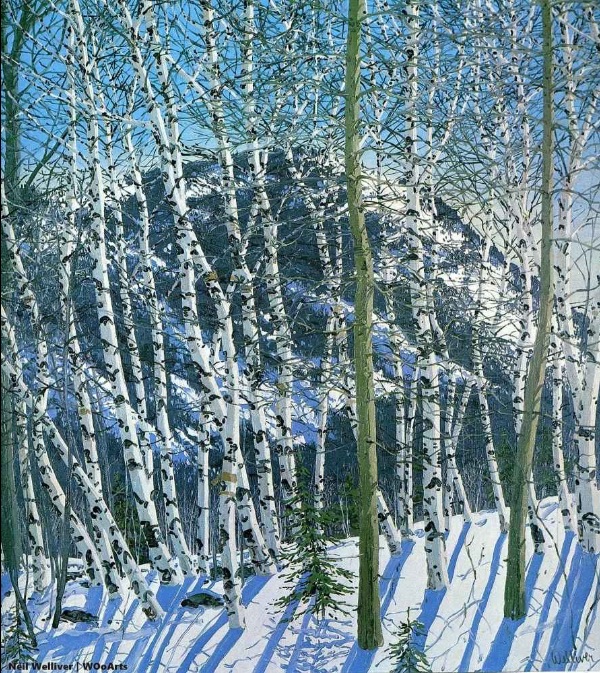 4. What has been the hardest part of being at home during Covid-19?
Not hugging my grown children when I see them.
5. What has been the silver lining?
I cleaned out and organized my studio. Additionally, I have had time to create work for gallery consumption.
NOTE: Just click on the image of the studio below and it will take you directly to Jonathan's page on the Silverman Gallery website. From there you can click on STUDIO TOUR to see just how clean and organized his studio really is! The artwork on the studio walls is available for purchase through the gallery.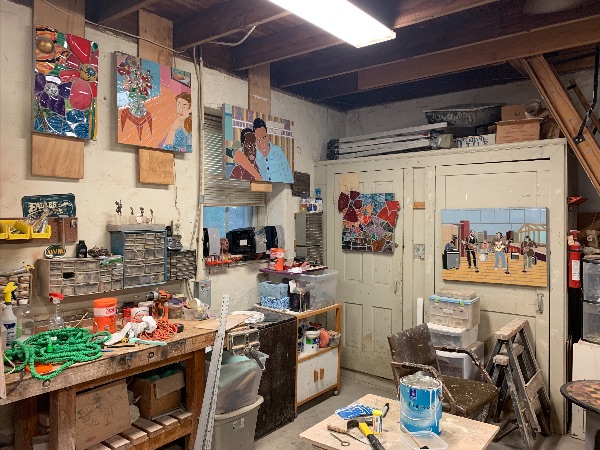 Stop by when you're in the area, or call or e-mail to set up an appointment for a private visit.
Your safety is our top priority and surfaces will be sanitized between visitors.
Visit our exhibition by Lahaska's Joseph Barrett and Bucks County Folk Artist, H. "Mitch" Michener. Work by all of our gallery's fine artists is featured in the front gallery, many more paintings and mosaics are available to view on the website.
NOTE: The Jim Rodgers Solo Exhibition will open this September.
Please call or e-mail us if there's something of interest
and we'll be happy to hold it for you until you can see it in person.
215-794-4300 | rhonda@silvermangallery.com
PHYSICAL ADDRESS:
4920 York Road, Route 202
Holicong, PA 18928
Five miles south of New Hope and just north of PA 413
in the Buckingham Green Shopping Center
(shows Doylestown on maps)

MAILING ADDRESS:
PO Box 1
Holicong, PA 18928
GALLERY HOURS:
Wednesday through Saturday 11am - 6pm
Sunday 11am - 4pm
Additional hours, shipping, delivery and
in-home consultation are available by appointment.

info@silvermangallery.com
(215) 794-4300