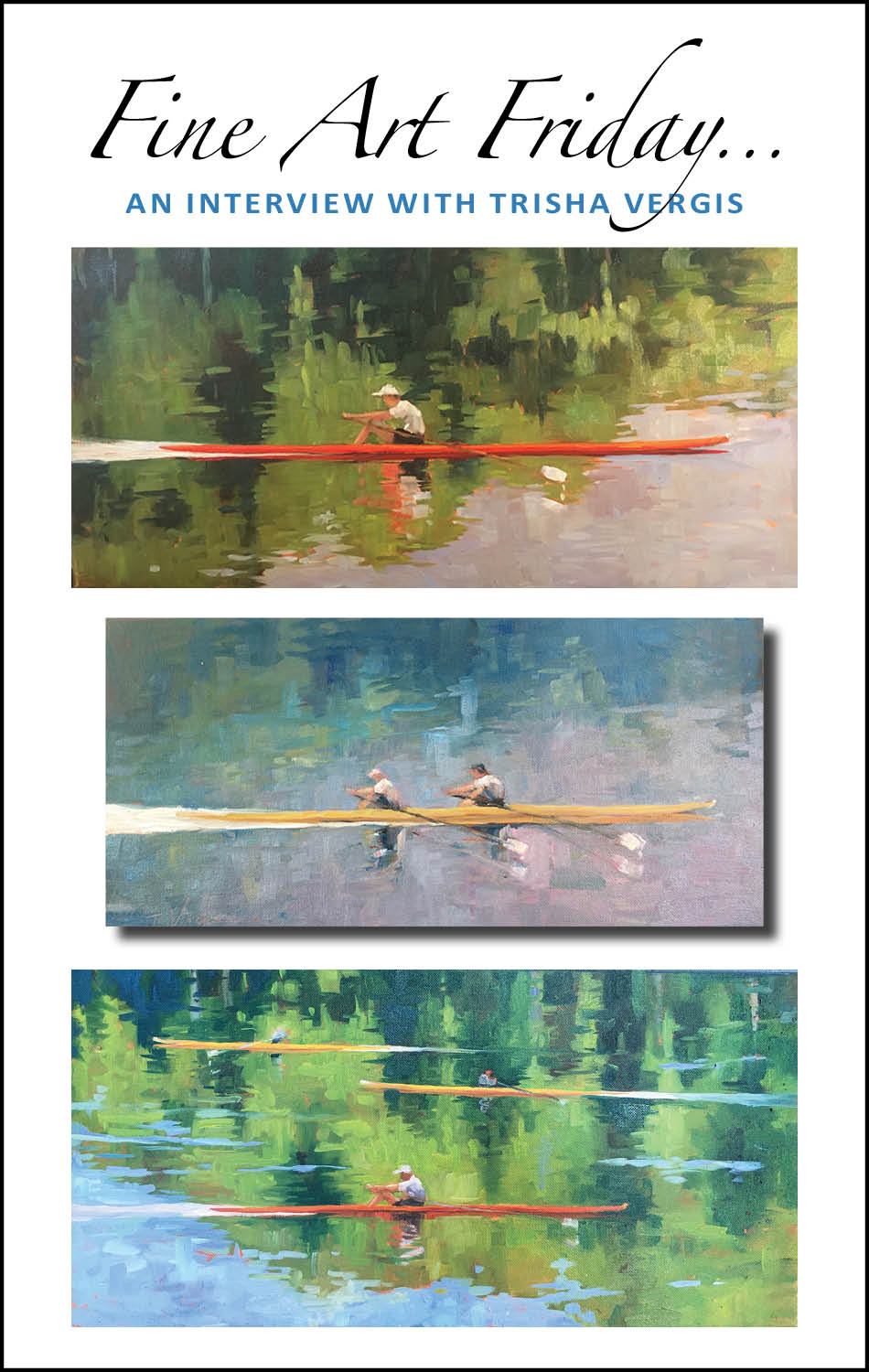 Trisha is an artist through and through. She sees skies, flowers and water in colors and her mind is already mixing her palette, ready to set up her easel and take it all in. Enjoy!
1. What are you currently working on?
I am currently working on a series of rowers on the Delaware River. I painted four plein-air pieces. Three Rowers, Peaceful Rower and Two Man Crew are shown above. Then, working from these plein-air paintings and experience I just completed a large studio piece, 28 x 41 inches, titled Rowing Out and Back on the Delaware, now showing at the Silverman Gallery.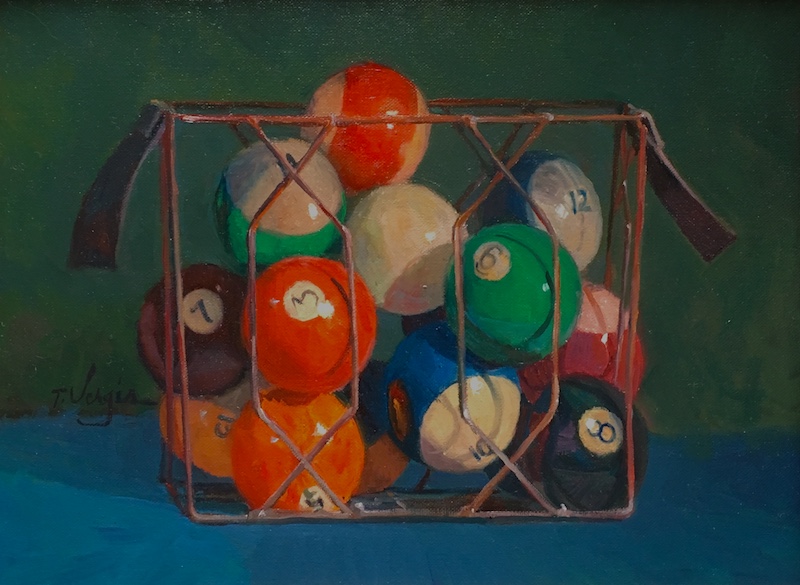 2. Which piece of your work are you most proud of?
8 Ball In The Corner, (13 x 16) is a painting that I am most proud of. This basket carries the heavy weight of my father's billiards. He had these since he was a kid growing up in the Pittsburgh area. My grandfather was Greek and ran a busy diner and pool hall called The Arcade in Franklin, Pennsylvania. My father was a real character and played a real mean game of pool. All sentimental qualities aside, this is technically one of the most difficult paintings I have ever made.
3. If you could magically have, all to yourself, any piece of art that you've ever seen in person, what would it be? (Something that moved you, gave you goosebumps.)
If I could be blessed with an all-time favorite painting it would be Tarascon Stagecoach, a very large painting by Vincent Van Gogh from 1888. It was premiered at the Princeton Art Museum several years ago. I couldn't wait to see it. As I approached it I was riveted! I abandoned my friends and the rest of the museum and spent a few hours studying this amazing piece. I went into this painting for sure and traced with the colors and brushstrokes. When I got back to my studio I painted a piece that won the top prize at the Ellarslie Annual Juried Show in Trenton. Thank you Vincent!
Check out Van Gogh's "Tarascon Stagecoach" online by clicking on the image below. The painting is on long-term loan by the Henry and Rose Pearlman Foundation to the Princeton University Art Museum.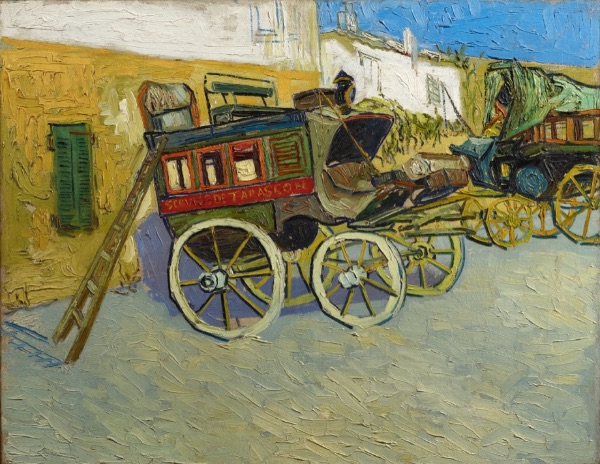 4. What has been the hardest part of being at home during Covid-19?
When this covid came upon us I was lost. All my employment as an artist/waitress vanished. Living on the edge for years left me unprepared. That has not been the hardest part. The most difficult for me is my heart is full of anguish for all of us. I pray for the sick and suffering. I ask for patience,courage, and strength for myself and others.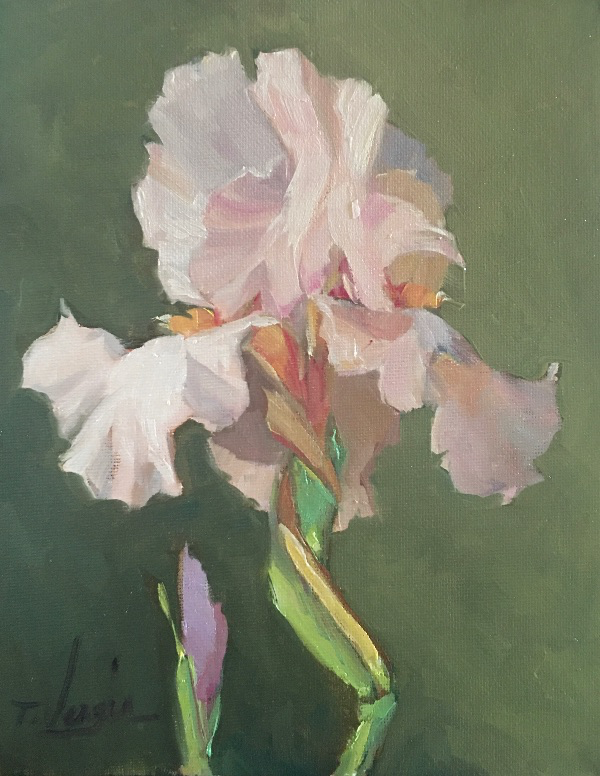 5. What has been the silver lining?
With that being said, the COVID-19 crisis has brought a new light to my life. I have not had quality time to paint and deeply reflect in years. Now I do. I enjoy what I have. I focus on how to find my joy in each day. Painting daily does just this. I've been noticing a sharpening of my skills, the ability to think deeply has increased, creativity and inspiration are abundant. It really doesn't get better than that gilded lining!
(Shown above, Iris No. 4, (8 x 10) which recently found a home in Easton, PA.)
Stop by when you're in the area, or call or e-mail to set up an appointment for a private visit.
Your safety is our top priority and surfaces will be sanitized between visitors.
Visit our exhibition by Lahaska's Joseph Barrett and Bucks County Folk Artist, H. "Mitch" Michener. Work by all of our gallery's fine artists is featured in the front gallery, many more paintings and mosaics are available to view on the website.
NOTE: The Jim Rodgers Solo Exhibition will open this September.
Please call or e-mail us if there's something of interest
and we'll be happy to hold it for you until you can see it in person.
215-794-4300 | rhonda@silvermangallery.com
PHYSICAL ADDRESS:
4920 York Road, Route 202
Holicong, PA 18928
Five miles south of New Hope and just north of PA 413
in the Buckingham Green Shopping Center
(shows Doylestown on maps)

MAILING ADDRESS:
PO Box 1
Holicong, PA 18928
GALLERY HOURS:
Wednesday through Saturday 11am - 6pm
Sunday 11am - 4pm
Additional hours, shipping, delivery and
in-home consultation are available by appointment.

info@silvermangallery.com
(215) 794-4300